BALDWIN 5'8 MODEL R GRAND PIANO
WATCH AND LISTEN TO A SIMILAR  BALDWIN  M PIANO IN ACTION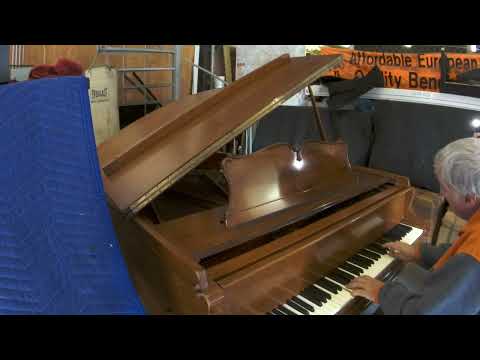 Baldwin Model   R    baby grand piano
Video will open in a new window
Using the eBay App? Paste link into a browser window:
PRODUCT DESCRIPTION
Good playing condition as seen on the video BUILT  IN 1978
Model  R   , 5'8   superior   sound   comparing  to  a small  baby grand.
This  piano is  far  superior  to most  Asian  piano  and  way  cheaper,  if you don't  want   a  polished  black  piano  but  do want   a great  sounding  instrument   this  instrument  is  for you.
Tuned to concert pitch, good soundboard,  strings, hammers  etc
Some  scratches   above the  keys  on the  fallboard  otherwise  the  cabinet  is  in decent  condition
Made in the USA  quality, will last  another  50 yrs  at this  rate.
Classic cabinet , We have the largest selection of used European piano in the USA ( Bechstein, Bosendorfer, Bluthner ,ETC)Please note that pianos do need tuning once they arrive in your home after being transported and A440Pianos is not responsible for this service.
A440 Pianos is the largest rebuilder of pianos in the South-East Region. With a large selection of Steinway, Bosendorfer, Baldwin, Yamaha, and other named brands meticulously restored to original condition, our instruments are sure to please the most discerning of pianists.
SHIPPING INFORMATION:
Please note the once the piano arrives in your home you will have to tune it at your cost since pianos do go out of tune during shipping.
RATES INCLUDE DELIVERY TO YOUR CITY ANYWHERE IN THE 48 STATES.
We can arrange in home delivery for another $375+ (depending on stairs/turns etc)
Area
Cost
Time
GA

$395/ up

(in home)
3 to 4weeks
Mid West, North East, South East, Florida

$1095/ up 

(curb delivery)
3 to 8weeks
South West, Texas

$1495/up 

(curb delivery)
3 to 8weeks
West Coast

$1795/up 

(curb delivery)
3 to 8weeks