YAMAHA U1 48″ VERTICAL UPRIGHT PIANO
WATCH AND LISTEN TO A THE PIANO IN ACTION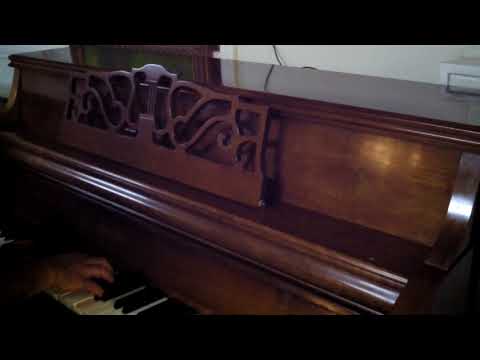 Charles  Walter  upright  piano
Video will open in a new window
Using the eBay App? Paste link into a browser window:
PRODUCT DESCRIPTION
1 owner , purchased   in  in 1999
French ProvincialThe elegance and grace of 18th Century France are captured in this magnificent model. The music desk, true to the styling of the period, features a custom antique brass inset. Shown here in Cherry.
Console Specifications
We have listed some of the Walter 1520 unique features, but the pleasing tone, the playability, the excellent tuning stability and the ease of tuning, are also outstanding features and are impossible to photograph. All Walter pianos have a 12 YEAR FULL WARRANTY against defects in parts, material and workmanship.
Number of keys88
Number of dampers72
Heightfloor to keybed, 23 3/4″
Actionfull size studio (direct blow) – Renner or Walter
Hammers14#, reinforced, mothproofed, Australian felt
Key16 3/16″ long, 1″ tall plus keybutton; individually weighted
Key materialbasswood
Key covering materialwhite-ivorine (acrylic resin) black – Phenolic resin; longer grand size
Keybed thickness1 5/8″ butcherblock construction
Keybed materialPoplar
Plategrey iron casting finished in special bronze – O.S. Kelly – Ohio – Steinway owned
Speaking length of longest string48 1/2″ (overall length 57 1/8″)
Soundboardclose-grained Sitka or Bavarian Spruce (not laminated)
Size of soundboard37 3/16″ x 56 1/4," 2090 square inches
Pinblock29 ply delignit
Tuning pins2/0 x 2 1/2," nickel plated head, blued thread
Pin torques100 to 200 inch pounds
Back posts5 (2 1/2″ x 3 1/2″) Sitka Spruce
Pedals3(soft, base sustain, full sustain)
Pedal materialsolid brass
Casterssteel
Hardwaresolid brass
Cabinet materialMostly 5 ply lumbercore throughout
Mouldingssolid walnut, solid cherry, solid oak, solid mahogany
Lustrous cabinet finishesnumerous coats of stain, wood filler and lacquer, painstakingly rubbed by hand, produce the deep luster of Walter cabinets… comparable to the finish of the finest furniture.
Cabinet dimensionsHeight 43 3/8," depth 25." Add 3/4″ to depth and 1 1/4″ to width for French Provincial and
A440 Pianos is the largest rebuilder of pianos in the South-East Region. With a large selection of Steinway, Bosendorfer, Baldwin, Yamaha, and other named brands meticulously restored to original condition, our instruments are sure to please the most discerning of pianists.
Please note the once the piano arrives in your home you will have to tune it at your cost since pianos do go out of tune during shipping.
RATES INCLUDE DELIVERY TO YOUR CITY ANYWHERE IN THE 48 STATES.
We can arrange in home delivery for another $375+ (depending on stairs/turns etc)
Area
Cost
Time
GA

$395/ up

(in home)
3 to 4weeks
Mid West, North East, South East, Florida

$895/ up 

(curb delivery)
3 to 8weeks
South West, Texas

$1095/up 

(curb delivery)
3 to 8weeks
West Coast

$1095/up 

(curb delivery)
3 to 8weeks
 Wordwide delivery to any port from $1450 to $1950
 Livraison dans le monte entier a n'importe quel port de $1450 a $1950
 Entrega mundial a cualquier puerto desde $ 1450 a $ 1950