BÖSENDORFER  6'6″ GRAND PIANO 
WATCH AND LISTEN TO A THE PIANO IN ACTION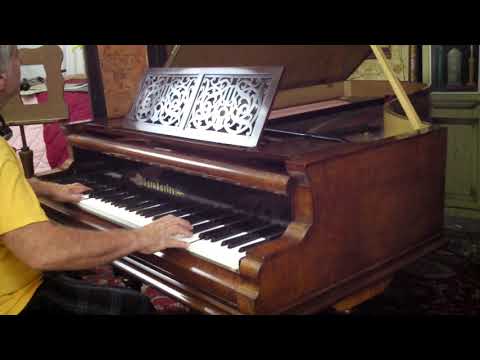 Gorgeous  Bosendorfer   grand  piano
Video will open in a new window
Using the eBay App? Paste link into a browser window:
PRODUCT DESCRIPTION
   Historical   instrument, one of the  very  1st  one  made  by the  world  famous  Austrian  factory
 Made  in   1860  during  a   long  cold  winter  in  Vienna  Austria  for sure!
Luxury comes in all shapes and sizes. Now it is not that it's big, beautiful and all bling (alliteration intended). This piano is all of that. It looks like its come straight out of a fairy tale and one things for sure the kings and royals of yesteryears will definitely regret not having something this beautiful and all shines during their era. This -Bosendorfer grand piano is one of its kind . That makes it understandably worth at  least $25k . No points for guessing where this scintillating instrument (rather monument of sorts) dawns from…
The  cabinet  is  in  good   superb condition
New  bass  strings  just  installed.
Size  6'6
Soundboard no cracks  , bridges, keys  and hammers  are  in good  condition.
Ludwig Bösendorfer draws the first sketches of the Grand Piano 170 for the highly cultured salon society of Imperial Vienna. The result is an enchanting instrument for the private cheerful gatherings of the bourgeois, and nobility. More than a century later, this Bösendorfer Grand still enjoys popularity. A true Bösendorfer Sound experience even after more than a century of music's history
Made in Austria
Bösendorfer Grands are not just an object of investment but of value that will last more than one generation. Our skilled Bösendorfer Artisans reveal the inner beauty of the Bösendorfer sound, unique in colour, dynamics and expression. Perfected throughout generations. It takes the dedication of our Bösendorfer Artisans for up to a year to build your Bösendorfer Grand. A personal touch that you will sense the moment you play. Austrian quality, Viennese soul.
A440 Pianos is the largest rebuilder of pianos in the South-East Region. With a large selection of Steinway, Bosendorfer, Baldwin, Yamaha, and other named brands meticulously restored to original condition, our instruments are sure to please the most discerning of pianists.
SHIPPING INFORMATION:
Please note the once the piano arrives in your home you will have to tune it at your cost since pianos do go out of tune during shipping.
RATES INCLUDE DELIVERY TO YOUR CITY ANYWHERE IN THE 48 STATES.
We can arrange in home delivery for another $375+ (depending on stairs/turns etc)
Area
Cost
Time
GA

$395/ up

(in home)
3 to 4weeks
Mid West, North East, South East, Florida

$1095/ up

(curb delivery)
3 to 8weeks
South West, Texas

$1495/up

(curb delivery)
3 to 8weeks
West Coast

$1795/up

(curb delivery)
3 to 8weeks
Worldwide delivery to any airport for $1950